Player Handout
"There are horrors beyond life's edge that we do not suspect, and once in a while man's evil prying calls them just within our range."
― H.P. Lovecraft, The Thing on the Doorstep
Introduction
Four years ago the greatest war the world had ever seen ended under an armistice, leaving in its wake an uncertain future for the nations of Eurona. As cities are rebuilt new tensions are rising and people struggle to find their destiny. The Great War left the continent in a state of endless political upheaval. It is a time of revolution, fear, and intrigue. Leaders fight for dominance in the halls of power with lies and assassins while most of their people starve and toil in fog choked cities. Behind every allegiance is an ulterior motive, behind every promise is deceit. But behind these shadows are even more sinister forces at work.
During the Great War various nations sought uncanny means of victory when they realized that they couldn't win by traditional tactics. They used forbidden magics and recruited mad men to create machines of dark science. In their efforts for better weapons of war they called forth forces beyond their control or comprehension, and awakened worse things. A constant flow of souls from a thousand battles coupled with destructive magics drew the attention of slumbering evil. Although the old gods still sleep, their dreams ripple across reality spilling over into the waking world. In their blind arrogance the nations of Eurona have paved the way to further horror in the strange world of dark science and madness.
Campaign World Premise
The world is vast and ancient. Long ago the natural world was home to highly advanced empires that spanned many different planes and wielded technology and magic that most only dream of. The vast majority of history since then has been lost to time and decay, creating a landscape that is doted ruins and mysteries.
The world has recovered from an ancient apocalypse. Long ago the world was brought to ruin in a divinely influenced apocalypse. Some say the dragons burned the old world to a cinder, and others think that the Penitent Ones had driven all sentient life to madness, turning them into little more then animals as punishment for their sins. No one is sure what really transpired during this forgotten era. The Long dead husks of titanic war machines scattered through out the lands serve as reminders of this event.
Magic and science exist as one. Magic is everywhere, but due to universal limits it can only go so far. So civilization branched on to a technological path, one that utilizes both magic and science. So now things like airships and trains are possible by way of arcane engines that use natural sources of energy like electricity and coal to power spell engines. Non magical machine are still readily used.
Civilization is undergoing an industrial renaissance. Technology is slowly spreading to the distant corners of the world and science is advancing at an incredibly fast rate. Age old beliefs and superstitions are constantly being debunked and challenged. The power of religion is slowly declining. New inventions and scientific revaluations are popping up in nearly every major city, and any one, regardless of social status, can find a way to take advantage of this new chaotic age of rapid change and growth.
Technology and primal forces are at constant odds. With the introduction of industry came the invasion of the free wild places of the world, sparking conflict with primal forces and the wild races that have lived at peace with nature for countless mellenia.
Unnamed horrors lurk in strange far places. Within the darkest depths of the ocean and the coldest corners of the cosmos lurk vast alien entities and hostile aliens that are beyond understanding, and with the ancient civilizations gone they are once more free to plot and scheme.
Dark science is rampant Genius and madness are two sides of the same coin. The unrestricted advancement of technology and the arcane arts has given rise to a sprawling underworld of fringe science and forbidden arcana. Now dying kings can cheat death with crude life support contraptions, grim doctors prowl the graveyards in search of corpses to experiment on, and mad men make deals with ancient horrors in exchange for knowledge of forbidden arts.
True monsters are rare, powerful, and terrifying. Many unusual races and creatures inhabit the world but true monsters lurk in the farthest most strangest places. They are large, terrifying and can strip the sanity off weaker minds. Some are ancient animals that have drifted into obscurity, others are outsiders that time has forgotten. All of them are a force to be reckoned with.
The world is full of mystery and intrigue: Greedy companies, criminal enterprises, and deranged cults are constantly scheming and plotting in dark alleys while society remains largely oblivious to their activities. Neither is every thing what it always seems. Some times adventurers could find them selves allied with cultists and monsters with similar goals. All actions have consequences and most adventurers find that they have to be morally flexible in order to do good in the world.
Dragons are strangely silent: Dragons are incredibly ancient magical creatures that where once heavily involved in the politics of the ancient empires. But after the fall of the ancients their numbers where reduced to a mere handful, and due to the hostility of the civilized races the dragons where forced to retreat to the most secluded corners of the world. Since then dragons have become legends. People live their entire lives without ever seeing or hearing about one. Only the most daring explorers ever get the chance to see a dragon. Talking to a dragon is nearly unheard of.
Campaign Rules and Features
Firearms
Late 1800s weapons such as repeating rifles and Shotguns exist in this setting and adventurers have a vast arsenal of firearms to choose from. Talk to DM for rules on firearms and check the online wiki, under Firearms You will also frequently encounter enemies using firearms, along with bombs and cannons. Note that these all do alot of damage, ALOT of damage.
Engineering
Due to the unique nature of the setting I have added a new skill. Underneath your list of skills, make sure to write down "Engineering" which uses your intelligence modifier. See more at Engineering under Campaign Specific Skills and items ect.
Variant Cover
Due to the unique nature of my setting I feel the need to introduce a new cover mechanic. Players can spend a minor action to take cover behind an appropriate object. (such as a low stone wall, a pillar, a statue, a turned over table ect…) While in cover players can use their ranged attacks with line of effect beyond the cover they are using. In regular D&D 4.0 rules you must step out of cover in clear view on the battle field to attack using a ranged weapon. With the Variant Cover mechanic players can actively use cover for added defense without having to run out into the open every time they wish to use a ranged attack. (common sense does apply here, if an enemy shoots you from behind then you wont gain the benefits of cover.) Players can shift or move while in cover but not "away" from cover. It takes a minor action to drop out of cover.
Variant Called Shot
Players can choose to target specific points on an enemy for a various effects, but with a penalty to the attack score. Targeting specific limbs incurs a -2 penalty to the attack, anything more specific (head or held weapon) is a -5 penalty. Players must also state what kind of effect they wish to incur by making a called shot. For example, you can attack the legs of an enemy with the intent of slowing them or even attack the held weapon of an enemy with the intent of disarming them.
Firearm Maneuvers
Certain firearms come with special attacks. For example, you can fire both barrels of a double barrel shotgun for an extra 1d6 to damage. A sub machine gun can be used to provide cover fire which slows down enemies. Most weapons allow you to make extra attacks with penalties. See Firearms for more info.
Botching (rolling 1's)
If you botch then the DM will decide on what happens depending on the situation and what seems appropriate.
Sanity
As you battle unnamed horrors and witness sights that would destroy a lesser man the mental resolve of your characters will be tested in the form of a sanity system. See Sanity in Campaign Specific Skills and items ect.
Bonus Experience
All players receive bonus experience at the end of every game session, but players that perform exceptionally well will receive addition bonus experience.
Bonus Combat Experience
Bonus combat experience is rewarded to those that perform exceptionally well during combat encounters with brilliant tactics and making good use of the environment. For some thing to deserve extra combat experience it must be unexpected, smart and DAMN epic!!! (as in, "THIS… IS… SPARTTTAAAAAAA!!!!!" epic)
Bonus Roleplaying Experience
Bonus Roleplaying experience is rewarded to those that show character advancement and good acting during a session. This usually involves getting a little emotional and revealing some thing new about your character to the other players, and sometimes it involves getting through character conflicts. Bonus roleplaying experience is also rewarded to those who role play their characters accordingly when under the effects of derangements. (see above for sanity rules)
Bonus Team Experience
Bonus Team experience is rewarded to the whole group when they show exceptional team work during encounters, or in solving problems and handling quests.
Bonus Journal Experience
Characters who detail their adventures through a journal will receive bonus experience based on level. Journals will only be counted if written in a logical and understandable manner, so no one line entries!
Bonus experience rewards are based on the level of the character. Bonus experience rewards always come at the end of a session and count for the session, not the encounter.
Character Creation
Character Connections
Character connections are virtually none existent, but if you wish to make some to connect your characters, then feel free to do so. You come from all walks to life, and you don't have to like each other, but the current situation has forced you all to cooperate. As the adventure continues you will forge connections as brothers and sisters in arms! (hopefully!)
If you wish you can also start with NPC contacts related to your back story. Talk to the GM about this.
(Note: I much prefer that everyone use hand written character sheets and cards instead of printed ones. Writing some thing down helps players remember things much better and it saves them the hassle of having to print out new sheets every time they level. Please guys, I have had some very terrible experiences in the past involving printed character sheets. If you need help with your character sheet then call me and I will personally help you make it.)
Character Level and Race
Everyone starts at level 5.
Common Races
Human
Dwarf
Warforged
Elf
Half-Elf
Goliath (aka: Half Ogres/Giants)
Half Orc
Exotic Races
Dragonborn
Goblin
Hobgoblin
Kobold
Razor Claw Shifter
Long Tooth Shifter
Tiefling
Drow
Yaun Ti
Hamadryad
Unplayable/Other Races
Items
You get to choose one magic item of lvl's 1-6 to start with in addition to your starting equipment. OR you can choose to have a "unique character item" which your DM will choose or build for you. Unique character items are usually not in the game and some thing that is based off your characters theme or back story.
Free Items: Some items I will let you have for free if you ask nicely, other free items you

MUST

have in order to adventure. All player characters start with Travel Papers which identify who they are and where they are from. Some player characters will be required to have mercenary licenses and contracts which give them the right to hire out their services to people.
Little Things To remember
No Drinks on the game table! Keep them on another table or in a place where they won't easily spill.
If you're going to bring vendettas to the table then

TAKE

THEM

OUTSIDE

. Respect

EVERYONE

!
Initiative and conditions are tracked via combat sheet with magnetic pads.
The game will only start when everyone is quite and the DM has had a few silent minutes to gather his/her thoughts
Dice rolls only count if they are on the table, same for the GM, except the GM doesn't need to show their dice roll results.
Guys keep your Laptops and notebooks in places where they wont fall over or be ruined by clumsiness. If anyone is using their laptop computer during the game, then put it somewhere safe.
Players don't necessarily need to keep their character sheets secret, but I would prefer they keep their backstories to themselves unless they reveal details in role playing their characters. I would also prefer that my players send me their backstories in private and keep them hidden from other players on Obsidian Portal until information is revealed in the game.
All players are welcome to take breaks as needed. If work, school, whatever become a problem players may contact me and you'll be taken out of the game. However you will be able to come back at any time. Please let me know in advanced.
With that said, players asked to leave the game will not be allowed to return to the game.
A few examples of things that can get you kicked are, sexual harassment, and throwing tantrums. (regarding that last one, learn from my

FAIL

guys!) So keep your hands to your selves or take a walk outside if you're feeling stressed
Chewing gum is not allowed at the table , and when the game is in progress you are not allowed to play on any hand held gaming device. (sorry no Pokemon in the middle of game guys!) And if you need to answer a text then please step away from the table so that I know that you are busy.
Final Warnings
Do not be afraid to criticize me, my GMing, my story, my role playing ect…
Do not be afraid to bring complaints to me, I will be happy to deal with any concerns you have.
Future
If we do manage to some how get this game to take flight (steampunk pun intended) then I plan on giving you an airship, (and possibly other vehicles) From there the game can go into radicly different directions then what I had planed, you might decide to not pursue ancient horrors and cultists. You might become explorers or even pirates and turn the story into a swashbuckling tale. I have gone over my head and built a whole damn fantasy world, but if no one can explore it then there is no point in having it. I am excited to see where you will all go.
Regarding Technology and History
This game is loosely based on a post World War 1 Earth with elements of high fantasy. I try to maintain a small degree of believably but all in all its still fantasy. So I humbly ask my players to not stress technological accuracy too much if they find anything that seems inaccurate. You can't hack a tank to pieces with a sword, zeppelins are still prone to bursting in flame, but older technologies such as plate armor and bows are still readily used by militaries, and personal automatic weapons like sub machine guns exist as very primitive prototypes.
I am also aware that mixing a high fantasy game with late 19 century to early 20th century technology is some thing that is not often done. Fact is, it would be better for me to simply create my own game rather then cutting and pasting D&D and putting it into some thing It was not originally intend to go with. But making a game takes alot of time and effort; and maybe I someday will try to make an industrial fantasy steam/dieselpunk themed game, but for now I just want to tell a story.
The World
Guns and Warfare
Gun technology ranges between very early 20th century bolt action rifles and automatic pistols to mid 1800s musket rifles and revolvers. But things like SMG's and Assault Rifles are in development and have not reached the point where they are practical. Although this is the age of cannons and trenches, plate armor and swords are also still commonly used. Swords are carried more for ceremonial purposes and plate armor is not nearly as large or bulky as that of medieval knights. Most Plate armor is improved by magic and tech, with enchantments to ward off bullets and motorized joints to enhance movement. Vehicles such as tanks, ironclad airships and bipedal mechs are all common among the worlds industrialized empires.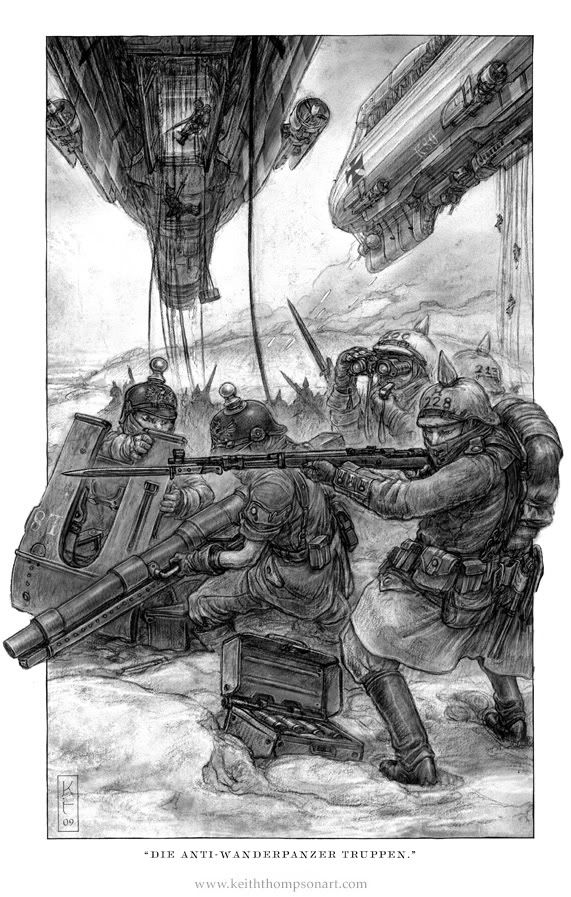 Art Credits
Travel
Airships are a common sight in this world and every major city has an air dock. Even small towns in the deep wilderness reserve a large clean field some where near by for airships to land. How do airships fly? Airships use an arcane engine to generate an anti gravity field that essentially makes the airship lighter, (they use the Feather Fall spell) allowing them to be lifted more easily by propellers, rockets, or highly advanced electric propulsion. These arcane engines are powered by electric dynamos, which in turn are powered by diesel fuel or coal. Airships use helium gas bags for additional lift and stability. Ironclad airships that lack helium balloons exist, but are almost exclusively military war ships. Ironclads are also very expensive and take a long time to build, so zeppelin airships are more common. The technology for Ironclads has been around for only 15 years.
As arcane engines got smaller a new form of airship was invented called the Podship. They require no balloon and can be flown by a single person but have a very limited flight range compared to their larger cousins. Near the end of the Great War podships replaced areal mounts and revolutionized warfare. Besides warfare podships are used for transportation, recreation, exploration and a host of other things.
Seafaring ships are still in use and equally popular as airships. They are used for trade and recreation. The use of military ships has been in a sharp decline since the invention of ironclad airships. Near the end of the Great War seafaring military craft made a surprising return in the form of submersible ships called "submarines."
Steam trains are the most popular and cheapest form of civilian transportation. Eurona is lined with thousands of miles of rails, they are strategically built at key cities and trade posts.
Automobiles are the new rage in most cities. These cantankerous four wheeled vehicles are still fairly new and most lack safety belts.
Society
Flora and Fauna
Mad Science
Many arcane sciences such as necromancy and pact magic are outlawed in most lands. Laws against the practice of "dark science" is enforced by the state and church which monitor all magic users.
Eldritch Terror