Kalashtar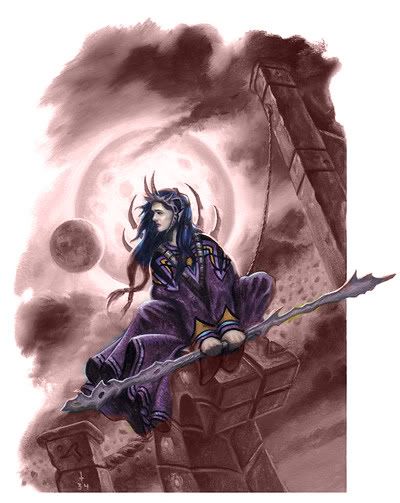 Houserules
At character creation you get the following ability modifiers:

+2 Wisdom.
Your choice of +2 Dexterity or +2 Charisma.
While Kalashtar arrived on Rekh Ir Nasam only a millennium before the War of Crimson Ash, they have carved out a niche for themselves in that time. They first arrived in eastern Deme't'ra, and made pacts with the nomadic orcs living there. Over the centuries the old pacts and treaties were forgotten and the nomadic orcs were slowly pushed back to the White Steppe, while Kalashtar settled on the fertile plains and in the lush forests.
Kalashtar are not native to Rekh Ir Nasam. There are no records of the race before their coming to eastern Deme't'ra. According to their legends they hail from the plane of dreams that mirrors the world, much like Feywild and Shadowfell do.
As time passed Kalashtar have divided into many factions, and once unified people they began fighting amongst each other. The arrival of Nefedarss'thalonatii and her host quickly ended those squabbles. The Kalashtar kingdoms were broken, and the people were either destroyed or enslaved. Those few lucky enough to escape sailed south, and resettled on the shores of Manak'kii.