Huguenot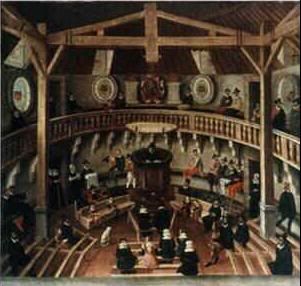 Jean Calvin was a native Frenchman born in Noyon in 1509. He was won over by the Reformation and ideas of Luther by 1533. Calvin travels to Geneva where his ideas were more quickly picked up by the Swiss. Calvin's "Institutes of the Christian Religion" was first published in 1541. Calvin promoted a form of theocracy which institutionalised morality and capitalism on the population in several Swiss cities by the mid 1500's. This local control of morality was in contrast with the acts of the Medici Popes and along with Luther began the break-up of the power of the Catholic Church.
In spite of intense persecutions leading to the stake, and despite enforced banishments, Reformed congregations were set up all over France from 1555 onwards. Very soon, there were more than a thousand congregations with more than two million converts, with the largest number of churches in southern France. The Catholics and Protestant theologians met in the Poissy Colloquy (1561) attempting to find some common ground. Instead Protestantism was seen to be both a challenge to royal authority and a movement of conflicting faiths. The Queen-Mother, Catherine de Medici, in 1562 did not take a strong stand against Protestants in France but other nobility used religious differences to cement their own local power.
The Peace of St Germaine in 1570 was the end of eight years of war surrounding the attempt by the Catholic League to consolidate power using religious differences as the leverage. Only two years later came the St. Bartholomew's Day Massacre during which an estimated 70,000 Huguenots were killed. Persecutions continued and were systematically carried out while whole cities tranferred to Protestant control.
The Edict of Nantes of 1598 had given relative religious freedom to the Huguenots folowing the succession by Henry of Navarre to the throne of France as Henri IV. Though he himself converted to Catholicism as a condition of gaining his crown, le grand Henri sought toleration between the French Protestants and their Catholic neighbors.
In 1621 and 1622, opposition by Huguenots to Louis XIII's marriage to the Spanish Infanta and the enforcement of edicts against the Catholics of Navarre led the young king to lead a campaign against the Protestant strongholds and towns of western and southwestern France. All but La Rochelle and Montauban were eventually forced to submit, often after great brutality and loss of life.