My Dearest
Penelope
,
Though your faculties do not allow you to indulge in the pleasantries of these words, I know that in some future time I shall vanquish this curse that holds your mind and body. It is in that day that I shall give you these letters as a token of my undying love for you. How I long to hear your nightingaled voice again, and touch your skin having been renewed of its hemothermic warmth! Ah but nevermore, for I digress, Sweet Angel, to talk of your curse…our curse… always brings sadness to my empty heart. I wish to tantalize you with an astounding dream that enter my head as it graced my pillow last night. I say "dreamed", my Beloved, but it felt (and I feel as though I know for assuredly) that it was more real than dream. It may be more appropriate to postulate that it was a vision, rather than dream. But I wish for you not to hypothesize that this was a vision induced by chemical hallucinogenic or arcane barbituatoids. So I refer to this as a dream, brought on by a higher source.
I dreamed that I was a piece in three different lives. The first has been hard to recollect. A barrier, I feel, prevents me from seeing much about this life. Yet, as my mental capacities are augmented and increased in the immediate act of feeding, it is then that I have been able to recollect images from this life from this dream. I saw that I was a young man in his early 30's. I felt that this man must participate in the medical field, for much of my own knowledge is known to this man. Though, his knowledge still pales in comparison to what I have learned over a century of time. And as I was this man for that brief moment in my dream, though my knowledge was far vaster, and my power far greater than his, I felt great envy for this man. I could feel that he had a loving wife that cared deeply for him; and four young children that huddled around his knees every night when he came home. I desired to stay locked in that dream forever imagining you were that warm, vibrant wife and I your husband. But, the Fates are always harshest to me when I am close to happiness. For a voice called to me, but called me by my other name…what was it again? James? Jitsun? Ah yes! I feel it once more…I was called
Jayson
.
"Jayson" the voice called me. "I am
Thaddeus Quincy
. You may call me Dr. Q. I will be your guide, your ferryman, your bridge into the other realms. I called upon you to aid me in a quest, an adventure of grave importance, which shall be unfolded to you." The Doctor I noted had an aged and eccentric voice. His tone was guarded and enigmatic, yet kind. I did not see his rostrum, but felt he was present, as if his voice permeated into my mind.
He continued, "You have been called along with five other individuals because of your cunning and awareness. I have been watching you six for sometime." At that moment, I suddenly became aware of these other Five souls. I could not see them per se. But, I could feel them, much the same way our kind can sense those of supernatural origins. The barrier, which I will later relate that Dr. Q placed on my mind, prevented me from remembering much of the other individuals.
Dr. Q spoke again. "I shall transport you from your world into another, and you shall forget everything of your old life." It is for this statement that I know Dr.Q is not a god. He is powerful yes, but he seemed to underestimate the uncanny abilities of my race and its natural aptitude to the metaphysical. For I did retain some memory, which he claimed I would lose. Nevertheless, he was still one of great power.
At that moment, I was surrounded in whiteness. As the whiteness receded, I did become dazed not remembering what had happened. The only reason I still am able to recount this previous life to you is from the heightened awareness brought about from subsequent feedings following my awakening from this vision. When the whiteness fully had dissipated from my vision, I clearly knew I was the man Jayson no more. I no longer felt the warmth that a mortal body effuses, that same warmth that your body once shed upon my skin those many years ago before this curse was thrust upon you. I know that it was not my bite that brought you into this accursed. Yet, I feel that I am fully to blame. But alas, I speak of sadness again. I return you, my Darling, to the vision once the whiteness receded.
I was in a very large room, a grand court as it appeared. Five others were with me that I knew right then were my comrades. The walls in this great room were of the most exceeding whiteness. So much so that it was hard to distinguish the width and breadth of the room. The floor and ceiling were composed of an alabaster stone polished so fine that it matched the texture of the walls. Thus, it purported this illusion of oneness from floor to ceiling. Thirteen silvery columns towered over us on either side of the grand hall like titans waiting to crush us. Their surface was of glass. Directly beneath our feet, we stood on a most exquisite blood red carpet. The carpet ran along the polished floor until it came to the far end of the hall. It climbed up a pair of broad steps till it reached a gaudy and ornate golden throne upon which sat a woman clothed in scarlet robes scantly covering her body. At the foot of the throne fourteen vampires stood at the ready.
The woman spoke, "I am "/campaigns/war-of-the-covens/characters/queen-mikarest" class="wiki-content-link">Queen Mikarest. You insolent fools have come to my hall uninvited. Yet, I am a gracious queen. Instead of banishment, invite you to dine. But first, I demand entertainment!" The wall behind her opened up revealing a passage. Before we could act, the queen slipped into the opening closing it behind her.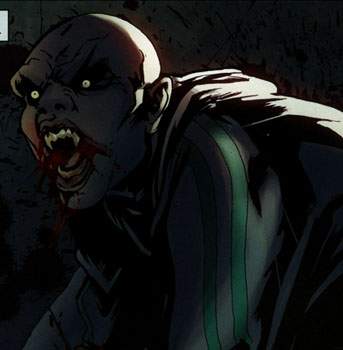 With the closing of stone portal, the fourteen vampires all hissed at us in unison echoing in the hall. To begin the entertainment demanded by the queen, a 100 pound wooden spike fell from the ceiling impaling a
friendly vampire with sparkling skin
. A battle ensued.
At first I was hesitant to engage. ""/campaigns/war-of-the-covens/characters/angelus-hartt" class="wiki-content-link">Angelus, you take the ones on the right. I will have your back." The calling of my name sent me to action. Our party seemed to take the advantage immediately. The spike that fell from the ceiling was used to skewer three of our enemies. Other enemies were enslaved by a vampire of the
Firstborn
. We had pushed them back to the far wall.
Thinking we had the upper hand we heard the maniacal laugh of the queen. "You have all faired well. The entertainment is over!" The outer walls opened up. Light of day broke through the gaping portals. The mirror-surfaces of the 26 pillars prevented any escape from the light. The sting was felt instantaneously. We needed to act quickly. Our enemies were also suffering from the light. I spoke up to my comrades, "Quickly! Beneath the rug! It may be our only hope."
As a team we dove under the cover of the woven scarlet rug, all except a ghoul, named
Frick
. He chose to stay and wail on those who destroyed his mistress, the she-vampire impaled at the start of the battle. The rug gave great relief. It would have been a perfect refuge if the devil-queen did not further our suffering by casting an incendiary spell on the rug!
Before we could act further, we were all pulled from that consciousness and returned to this life again, ending the dream. I woke with a start, feeling as if I had just died. Instinctively, I felt for you in the other side of the bed. Obviously, you were not there. But on the pillow was a calling card. I picked it up curiously, turning it over in my fingers to see both sides. There was no writing, yet the card began to warm inside my hand.
I heard a woman's voice; it came as though it was in my head: "I have woken you all from your sleep. You are needed. Come outside." I looked around. I was at the hacienda mansion of the
Coven of the Lost
. I had been invited to attend the wedding of the Bloodlord's son and his fiancé. I threw on an overcoat and came outside.
From my balcony overlooking the lobby, I could see a commotion surrounding what looked like a body lying on the floor. I quickly transmuted from corporal state to my vaporous form and descended over the balcony, right behind
Willie Dynamite
who was only in a pair of purple silk briefs with pink letters on the rump that read "Bite Me". I cleared everyone from the body, suspecting foul play, and not wanting the guests to contaminate my search.
We heard more commotion outside. A low crackle sound permeated into our building. We could smell the sour musk of smoke coming through the open windows. I wanted to see what was happening outside, but felt my skills trained in searching this body were better served where I was. The body was not dead. It was a man, clearly vampire. He seemed to be in a death trance. Wounds were noted on his arms and torso. They appeared to be slashes, possibly from the claws of an animal, or thick fingernails. Once I confirmed there were no more clues to be seen on the body, and that the man was stable, I moved to join my party outside.
The Bloodlord's personal mansion was riddled with fire. Witches trained in elemental magic were putting out the flames as I return to my ethereal form and whisked to the mansion in haste. I found the captain of the guards interrogating a female suspect tied to a chair.
Tony Slims
was reloading his famed crossbow,
Gazalem
.
Rin-Tsukiko
was taking her katana blade and pressing it to the fingers of the woman. Rin was shouting commands at the suspect, "Tell us who you are! Where is the Bloodlord." Another woman, partially dressed in a wedding gown stained with blood was sobbing hysterically. I approached her returning to my corporal state. As my countenance materialized I realized that my natural beauty had place the distressed damsel into a spell. She immediately confided in me.
I asked her to retell what had transpired in the last 10 minutes. She told of her fiancé dying before her eyes. She described blood exploding violently from his chest before he collapsed. I commanded her mind to sleep. She had been through something very traumatic.
Willie was already racing back to the upper rooms searching for answers. Our hostess,
Penny
, was also running up the stairs. Willie had found something. ""/campaigns/war-of-the-covens/characters/niko" class="wiki-content-link">Niko! You betta get up here quick, fo' shizzle. Rave, you too!"
Raven
, my old friend from Paris, who seemed to be unnoticed in the darker recesses of a corner of the room where the interrogation was taking placed, emerged. His eyes seemed to be taking in every detail.
I reached Willie in a matter of seconds. He stood over a body 80 to 90 percent charred. I say body, my Angel, but there was not much left of it to truly say that it was a body. The room reeked of acrid burnt flesh. I quickly assessed around the remains of the body. Willie pointed out the charred ceiling. It seemed that whatever carbonized this victim burned very hot and rapid. I checked for any chemical residues, but felt none. I am not acumen to the arcane arts, yet I suspected the assailant had used magic.
Raven and Penny both noted the open window. "The assailant must have fled into the woods." Raven spoke. Penny noted the small drop of blood that she found at the foot of the window. "Whoever it was, they are wounded. I will track them down." Willie transmuted into his bat form to search from the air. Before we could reach the stairs, the same woman's voice entered my mind. The other's pause as I did, suggesting that they were hearing the voice as well.
"My name is "/campaigns/war-of-the-covens/characters/alice" class="wiki-content-link">Alice. I mean you no harm. I am not the threat. I am here to aid you. The captain of the guard believes he is holding me captive. But I am allowing myself to remain here to meet with you all. Time is short. As you have now found out the Bloodlord Silas has been taken. You will lose the trail of those who have taken him. But, I know who they are and where they are at. You must trust me."
"Are you able to hear our thoughts, too, Mistress?" I thought.
"Yes, Nikotaru. I hear your thoughts."
"How can you show that we can trust you in helping us find our benefactor?"
"Sadly, Nikotaru, I cannot. But, you do not have the luxury of time to try my motives. If we do not act, the Bloodlord will die."
"Who the hell yuz think we is, B
" Willie's thoughts were passed into my mind by way of the sorceress downstairs. Yet, his voice seemed high pitched and strained, possibly a result of his bat form. "Willie's da' Playa. Nobody play wit da Playa. No matta how hoochie momma magic and mystic. Willie gonna go bad bro' fo' ballistic." It was a little hard to think of this squeaky voice being at all intimidating.
After a few more questions from my companions, some were becoming a little hostile. They wanted nothing more to do with the sorceress. As they closed in around her to take her, she suddenly folded in on herself and disappeared into nothingness. Her final message resonated in my mind, "I will call on you soon!" Then she was gone. The room was quiet. My mind was quiet.
Penny proceeded outside the house in a forced and deliberate manner. She reached the outer part of the open window. She picked up the trail once more. The five of us followed Penny into the woods, four on foot, Willie still in bat form.
We arrived at a rounded clearing when suddenly Penny lost the trail just as the sorceress predicted. The grass in this area had been forced down in a counter-clockwise pattern. We found the top of a tree, having been lopped off and flung a few yards from its tree, lying on the ground. The air smelled heavily of gasoline fumes. Willie suggested that a helicopter probably came and transported the assailant away. We returned to the hacienda disgusted that we had not found our quarry.
The rest of the evening was spent repairing damages and gathering those that had been scattered. The Coven gathered together to learn the news from Penny (one of Silas' nieces) of Silas' abduction and the death of the groom (Silas' second cousin). The family was devastated. Panic began to spread like an electric impulse passing through the crowd. Penny tried as best as she could to calm their fears.
We had a private meeting later in the evening just before sunrise. We discussed the need to ensure that the other Covens were not also affected. The satellite phone was temporarily down, and would be fixed the next day. At that point we would call all of the Bloodlords of our own Covens to see if any similar abductions took place. Rin also advised the Coven moving, since the enemy knows its hidden location. I suggested that there must be a traitor in the fold, therefore moving locations would not solve anything since the traitor would just reveal that next site, as well. I suggested we excise the wretch before considering a move. Before we could discuss more the morning was upon us.
I retired to my chambers. Thinking about all that occurred. My thoughts were of the sorceress, Alice. Her powers were unlike any I had seen before. Rin had related earlier how her katana could not penetrate the magic she was dispelling. She had also resisted the captain of the guards' legendary interrogation skills. Her mental abilities were also unparalleled. I began to think of my quest to search for the cure. All my science knowledge had brought about failure after failure. Books regarding myths of a cure also yield pointless results. It was when I felt under the sorceresses control that I realized, we vampires could not harm her. Was it because she possessed a power far greater than ours? What were the limits of her powers? Could she turn this curse if she willed? If these were true I had to find out more. I felt so close to finding the cure, my Darling. I would take any risk to learn more of this sorceress' power. I would enter any bargain if she could ensure that we could eliminate this curse, granting immortality devoid of this carnal hunger, and restore your riddled mind.
No sooner did I find that the very next day, the sorceress called upon me to meet again by way of the calling card warming in my hand and her thoughts entering my mind. She desired to meet with me to discuss how she was going to help in finding our benefactor. I quickly agreed.
I went to the location she had appointed just outside the outer rim of the hacienda. When I arrived, I realized I was not the only one who received her message. Penny and Rin were there as well. Soon we were joined by Raven, Willie and finally Mr. Slims. Willie was in his
"undercover"
clothes, a pink polyester suit with a yellow tie, yellow fur hat and mink shoulder drape, and yellow Ferragamo's loafers…size 14's. Once we had all gathered, Alice appeared much the way she had disappeared, but in reverse. In her hand she held a golden ring.
"I am glad you each have accepted my invitation. I have here a way to travel to my personal island where I shall show you how we shall track down those who have taken the Bloodlord of the Lost." She held up the golden ring. "It can transport you all there, but to use this vehicle freely you must provide it a sample of your blood."
"Blood! I
TAKE
blood creamy titty foo'! Willie don't give no blood."
Others also began to object. Amongst the objections, I took out a silver shuriken and pierced to tip of my finger. Without questions I placed the bleeding tip on the ring.
"I am ready." I said.
With reluctance, the others followed suit. Once the last member took hold of the ring with their sanguineous offering, we were instantly transported.
No time seem to pass in our travel. Instantly, we arrived at Alice's island. We could hear the waves of the sea lapping at the nearby coastline. In front of us stood a castle. On its front steps lay a sapphire blue wooly dragon. Upon seeing our presence it reared up towering at least 20 ft above us. It inhaled a deep breath. But before it could exhale its weapon of destruction, Alice stepped out of the castle doors.
"Down, "/campaigns/war-of-the-covens/characters/alice" class="wiki-content-link">Rooster, my precious! These are my guests." The eyes of the beast softened. The towering creature in reflex of hearing her voice started to decrease in size as it turned to its mistress. By the time it had fully turned around to greet the sorceress, it was the size of a tall man with features nearly human. Blue velvety fur still covered his body. It had sharp cheek bones, pointed ears, and a broad chin line. It was very muscular with a powerful neck and stout legs. Its hands were scaly and large. It wore a simple royal blue tunic with a low cut neck. The tunic was bound around its waist with a golden cord. Even in this new form the Rooster still looked formidable and terrifying.
The sorceress spoke, "Welcome to me abode and sanctuary. There is much to discuss. So if you would come inside, the sun is rising soon in this part of the world. My walls will protect you. Furthermore, I fear a storm is coming." The sky, which I had sworn was clear, suddenly had an armada of dark ominous clouds on the horizon. A chain of lightning spread through the misty mass in the distance just as the sorceress invited us in to the castle. We were too far down the rabbit's hole to turn back, so we enter under her hospitality not truly knowing what was in store for our party. Like the approaching storm, we all had that same look of wonderment and confusion, all except Willie, who was still wondering where he could find some loose and easy ladies to keep him warm from the storm.
Alas, my Love, my epistle ends here. My destiny fast approaches me. If this woman seems everything that she appears to me to be, we shall be united once more. Until that day, my Dearest Penelope, my life is dedicated to restoring your wholeness. And though I was forced to keep you bound for these decades, know this that I have ached everyday for that choice. I did it because I needed to protect you. I long for the day to return to your sanatorium with a cure in hand and break those chains with which you have been bound. Until my next letter.
Your Undying Love,
Nikotaru
</body>
</html>