Description
This savagely horned helmet is wrought of a dark metal that seems to absorb light. A veil of chains hangs from the visor.
This is the "Deathdealer's Helm" sacred to Danzig, said to possess a small spark of the demon lord's primal savagery. The wearer of this helm is besieged from within by the rumblings of his darkest, most destructive impulses. It is so easy to give into the surge of melee… The Deathdealer grows stronger when he follows his urgings, making him a fearsome though indiscriminate combatant, destined for the halls of glory. Deny the bloodlust too often, and the Horned Helm will turn on its wearer, eventually abandoning him to his fate.
With a savage roar the Deathdealer lays about him with a sweeping stroke. None are spared from this pitiless attack.
Savage Sweep (Encounter • Fear): Minor Action. Gain a +2 power bonus to your next attack roll this turn. If that attack hits, it deals an extra 1d12 Fear damage in a 1' Close Burst.
Lure of the Beast (Daily • Psychic): No action. The helm "tests" its wearer daily by making an attack (wearer's level + 3 vs. wearer's Will defense) at the start of the wearer's turn. If it hits, the wearer is dominated by the helm until the end of the turn, which the helm uses to sow chaos as destructively as it can. If the helm misses with this attack, its concordance drops by one, so the owner can choose to allow it to hit.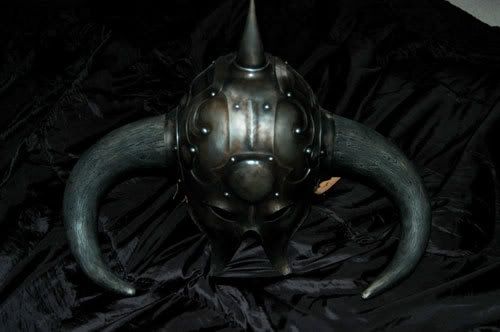 Potential Powers:
Bloodlust is infectious (Daily – Pyschic): On a successful hit a target convulses with rage and lashes out at an adjacent ally.
Whirlwind of Death (Daily – Weapon) Standard Action Close burst 1

Target: Each enemy in burst you can see
Attack: Strength vs. AC
Hit: 2[W] + Strength modifier damage. You push the target(s) 1 square.
Driven by strength and will, your weapon sweeps in a mighty arc that cuts every foe around you and drives them back from your fury.
Backstory
Horned Helm of the Deathdealer
"With just a touch of my burning hand,
I send my Deathdealer to rape this land
Prime directive, exterminate,
The whole human race"

This savagely horned helmet is wrought of a dark metal that seems to absorb light. A veil of chains hangs from the visor. Donning this helm instantly subjects the wearer to chaotic images of bestial violence. The dark core of existence is laid bare. The spectre of the Deathdealer appears upon his warhorse and raises his axe to strike. The Deathdealer is sent to cull the living through this living vessel. The Helm may not be removed. The Deathdealer is driven to wade through battle killing indiscriminately.
Powers: The wearer of the Horned Helm sees the awful blood-soaked truth of existence. His vision is bathed in the color of blood. The pulse of each living thing's fragile heart is a beacon.
• Raging Soul: Lose 3d6 Wisdom
• Blood is a Beacon: Gain Darkvision
• Indomitability: Gain Resist all 10
• Avatar of Battle: 2 Action Points Each Day
• Steed from Hell: Nightmare Mount
• Field of Blood: At Will; Close Burst 1; Str vs Reflex; [1]W + Str dmg; target is knocked prone.
• Unquenchable Fury: If slain, the Deathdealer rises from the dead in 24 hours. If the body is destroyed, the Helm seeks a new vessel.

Whenever blood is drawn, the vessel of the Deathdealer must make a Saving Throw or fly into a reckless blood frenzy of that only ends when all living things within sight have fallen. The Deathdealer may choose to attempt another Save every three rounds, but must continue to Save every round he attacks.
"Upon donning the horned helmet, your nostrils are assailed by the smell of burning blood and a curtain of crimson descends upon your eyes. A deep pulsation fills yours ears. At first it seems to be your own heartbeat, until it becomes apparent that it is that of another. A heartbeat? or a footstep? Through the crimson mist appears a mounted warrior. Inevitably it approaches, fleeting visions of carnage and destruction pass through your fevered brain and yet perhaps the warrior never moves, only growing in your sight as the world burns about him. Looming overhead, Danzig speaks:
I crawl inside your soul Nestle in your brain Stand you on your head Crouch you on all fours Oh I will walk among your dreams When you think you are asleep The invitation of your mind Beckons me to your sin All the things that you say and feel For I will be inside your speech Say the words you must not say For I will lurk inside your heart If you can take it and survive As it must ever be It's ever been Through my oppressive black sleeping It has always been As it must always be Possession